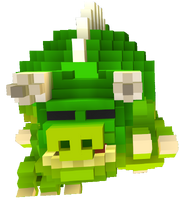 Saurians are giant reptilian boss creatures with varying shapes and different abilities based on what they look like. When they perform their powerful attacks, the ground will shake. The same happens with Trolls, Yetis and Mammoths.
Attacks
[
]
The Saurian will hit the player with its feet, dealing medium damage.
It will charge at the player, dealing massive damage, stunning anything in the way and destroying the landscape.
After a few seconds, the Saurian will turn around and slap the player with its tail.
If the Saurian has a shell, it will retreat in the shell and spin, dealing damage exactly like a turtle and destroying the terrain.
The Saurian will look in a direction and roll sideways.
Occasionaly, it will raise on its back feet and roar.
Fighting
[
]
It's best to start the battle with a stunning strike. A turtle can also help as it has very high HP and can help by distracting the Saurian.
Mage
[
]
The Mage will constantly recharge its MP so you can take advantage of that by getting into the battle by hitting it with as many M2 attacks as possible. You can use a mount, a glider or Teleport to get away from it when needed and start hitting it with M1 attacks and M2 attacks when it can be stunned.
Ranger
[
]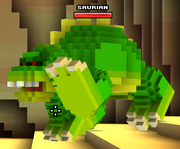 It's best to use a boomerang so that you can charge your MP faster and give a stunning attack. While the Saurian is stunned you have enough time to back away. The Retreat ability is useful if you are cornered and so is Kick if the Saurian is too close.
Rogue
[
]
Enter the battle with Intercept (if you have some MP, use it first because the Intercept will empty the MP bar) and if you are a Ninja, use shuriken attack and elusiveness. The Rogue attacks quickly so you can deal a lot of damage before dodging the Saurian's attacks.
Warrior
[
]
It's best to use dual-wielded weapons and hit the Saurian until it is ready to hit. Use Smash attacks and Cyclone to deal high damage and stun it. The Warrior and the Turtle combined make a very good combination in battle as they have very high HP and defense