Jurassic World: Dominion Dominates Fandom Wikis - The Loop
Play Sound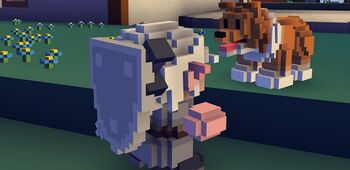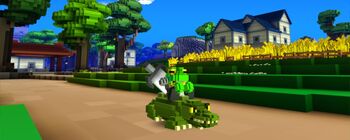 A Pet refers to any tamable animal or monster within the Cube World universe. A pet can be tamed simply by feeding it its favorite food, after which it help the player fight monsters After the official release on Steam, there is no EXP or Leveling for the pet, instead it actually gets stronger based on what your armor is. A pet, once captured, can also be stored in the inventory and taken out at will.
There is no limit to how many pets a character can have, and all character classes can have pets. Only one pet can be active at a time (by 'equipping' it in the pet slot). The remaining pets are stored in the inventory pet tab.
Pets have their own set of skills or moves. Currently there is no command interface for pets to change their behavior.






Pet Types
Taming
Most animals and some monsters in Cube World can be tamed. In order to tame a pet, you need to feed it with its favorite food (You can look at "pet food" for more information on which food goes to which pet) - this is done simply by clicking a specific pet food when you are in the pet tab and approaching the prospective pet (you can have a pet active while trying to tame another, once the pet is tamed, it will be replaced with the newly tamed pet, and the other will be stored in your inventory). Currently the process is automatically successful, you just need to wait till their heart goes big as they take their pet food. The challenge is to find out which food a creature likes and to obtain the food, either by finding it in a shop or more likely as a loot drop.
When taming a creature, try to find one which is alone because if they are in a group, all the creatures of the same type which like the same food will approach you, but only one will be tamed while the others will turn hostile.
Note that currently although Named Boss versions of a pet can be tamed, although the next time the game is loaded it will have reverted to a normal version of the pet, losing its boss status.
Pet Foods
Though not many pet foods for pets are known, a few have been found out due to closed-alpha game play videos. More pet foods are likely to be discovered in the near future since the game is now publicly released.
It is possible to carry more than one of the same type of pet food at a time by equipping the specified pet food then picking up the second pet food (only one pet food may be held at one time).
List of Pets
See the list of pets for a full list of pets, including the type of pet, if they're ride-able, food used for taming them, and landscapes they are found in.
Naming the Pet
The current active pet can be given a name (or renamed at any time) by opening the game chat by pressing "enter" and entering the following command: /namepet <name>
Riding

Riding a pet requires taming a mountable pet first, then possessing a Reins which was gathered in the region (Since Reins is a "Special Item" it will only work in the region you gathered it in. If you wish to use it in another region, you'd have to find it again in that region).
Once both conditions are met, the pet can be ridden when set as the active pet (i.e. placed in the Pet Slot) by being near it/looking at it and pressing the Call/Ride Pet hotkey (default "T").
To dismount from a pet, perform any attack - this means combat cannot be sustained while riding a pet, thus ruling out drive-by shootings (unless you quickly remount the pet after each attack). Performing a dodge will also remove the character from the pet, as does falling from high enough to suffer fall damage, or by pressing the shift key (only when a GUI is not on your screen).
Combat
Currently pets will never initiate combat, even if the player comes under attack. Once a player attacks something, however, the pet will immediately join. Switching targets will cause the pet to change targets as well, so it is a good idea to concentrate on one enemy at a time. The only way to stop a pet from attacking is with the Call Pet hotkey (default 'T') (To use the whistle, if you get on to ride it it will continue to attack), although the pet will immediately rejoin combat if the player resumes attacking.
Like for player characters, there is currently no dying penalty for pets - you can immediately open your inventory, pick up the (dead) pet from the pet slot then immediately put it back, and it will reappear instantly at your feet, alive. This is also useful in recalling pets which got left behind due to cliff jumping, hang gliding, or boating shenanigans.
Dead pets which are not immediately recalled and simply left in the Pet Slot will eventually automatically revive beside the player character after roughly a minute.
Planned
Rare Pets are a planned feature in Cube World. They will differ in look from normal pets and will be harder to find.
Pet Evolution is a planned feature which will allow some pets to evolve. No information has been given as to how you will achieve this in game yet.